Jordan: Women's Expedition
Booking Dates
05/30/2020 through 09/17/2021
Travel Dates
05/30/2020 through 09/27/2021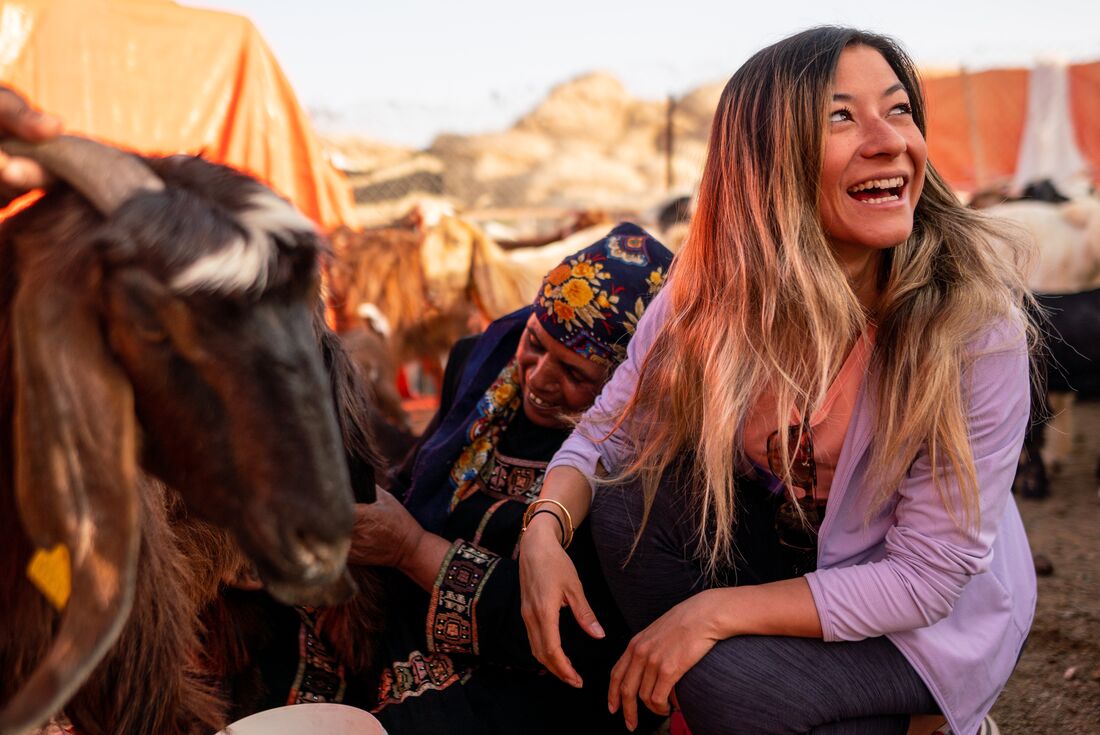 Jordan: Women's Expedition

What's life really like for women in Jordan? You know what a hijab is, a burqa is, a niqab. You see women wearing them, perhaps on the news or in your own city. But how many of these women do you know? Join this eight-day adventure in Jordan as we break the barriers of traditional tourism and discover sisterhood in this tiny desert nation. Spend a night in Wadi Rum and learn the traditional art of henna with Bedouin women, and discover how kohl has been used for years not just as a beauty product but to protect the eyes from the harsh desert sands. Spend an afternoon at a local female-only beach, discover the Dead Sea, and visit stunning Petra. Learn the art of Arabic cooking with your local host in her home, enjoy afternoon teas and gossip time with local women, and even meet a shepherd and help milk her goats. The reason we've made this tour just for women is that, culturally, it's just not possible for men to participate in a lot of the activities on this tour, and we want to offer the best opportunity possible for developing a deeper understanding of Middle Eastern women – with full respect for their traditional cultural values.

Activities
Amman – City Tour
Amman-Food Tasting Tour
Wadi Rum-Henna and Kohl Night
Wadi Rum – 4WD jeep safari and desert camp
Petra – Guided tour of Petra
Petra – Petra second day visit (unguided)
Petra-Be a Shepherd Experience
Dead Sea – Dead Sea visit
Highlights
Look behind the closed doors and tents in Wadi Rum and to find a culture usually hidden from the eyes of visitors.
What do Jordanian women do on a summer afternoon? They head to the beach! Bathe in rejuvenating mineral muds nearby, mingle with locals, and retire to the local resort and pool.
Take a cooking class at Beit Sitti, a unique and innovative initiative of three sisters who carry on their grandmother's legacy and dedication to tradition. Discover their stories and help prepare a delicious authentic meal under the sisters' supervision.
Join some of the local women for dinner in their home, this will be an informal evening to make new friends and learn the art of Arabic cooking in the home.
Join a local shepherd and learn about her day, trying your hand at milking a goat in the process.
Soak your bones in a hamam with new friends and, as the trip draws to a close, feast on a picnic of Arabic mezze for dinner.
Uncover the majesty and mystery of ancient Petra. The first glimpse of the Treasury from the narrow path of the Siq is simply unforgettable.
Itinerary
Destination
Pricing
Terms and Conditions
| Day | Description | View All |
| --- | --- | --- |
| Day 1 | Amman | Details |
| Day 2 | Amman | Details |
| Day 3 | Wadi Rum | Details |
| Day 4 | Petra | Details |
| Day 5 | Petra | Details |
| Day 6 | Dead Sea | Details |
| Day 7 | Amman | Details |
| Day 8 | Amman | Details |